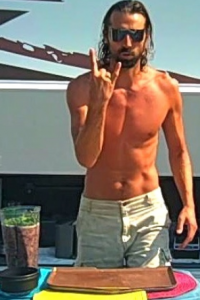 Dan MacDonald is the "internet evangelist" for juicing and the raw-food diet and lifestyle.  He has published hundreds and hundreds of videos on YouTube, and has built a sizable community there (https://www.youtube.com/user/liferegenerator).
He promotes health benefits by drinking natural, raw juices, such as his famous "Ginger Lemon Blast", made of lemons, arugula, cucumber, celery, mint, ginger, and even a jalapeno.  He actually got this recipe from his friend, Lou Carona.
Tune into his videos, and you are likely to here him "Do you dig it?".  While strongly believing in his diet/lifestyle, he maintains a totally nonjudgmental attitude toward the diets of others, realizing that many are "in transition".
Learn more about Dan's expertise here.